Contact us
The Press Photographer's Year is a not-for-profit venture that aims to restore photography to the heart of photographic competitions. We warmly welcome your questions and suggestions. Please do not hesitate to contact us if you have any at: info@theppy.com
Or you can call us on: +44 (0)20 3239 9908
We thank you for your support,
Dillon Bryden & Tim Bishop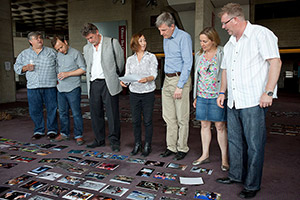 The 2011 Jury
This website has been optimised for Apple OS 10.6 through 10.8 using Safari or Firefox web browsers.
Windows XP, Vista or 7 users can also enjoy the Safari experience or try Firefox or even Google's Chrome. The site is also compatible with Internet Explorer though you'll need Windows 8 or Windows RT or Windows 7 SP1 to use Internet Explorer 10.
We no longer support Internet Explorer on the Mac.
If you are having issues registering, with your login or with any other technical aspects of the site then please contact our IT support team at: help@theppy.com